Our Products
Sublimed Flowers of Sulphur
Everitt Ltd is the largest UK importer and distributor of sublimed flowers of sulphur - the purest form of sulphur available - made using the sublimation manufacturing process. This product complies with the monograph of the British Pharmacopoeia Codex 1973 for Sublimed Sulphur (Flowers of Sulphur)
Used in Pharmaceutical and associated industries (human and animal healthcare) and laboratory processes throughout the world.
Flowers of sulphur is the purest form of sulphur and is recommended for products intended for internal use. Everitt are the main UK importers and distributors of flowers of sulphur and we can provide you with a certificate of analysis as a guarantee your purchase is genuine. Ensure your product is of the highest quality in the nutrition and treatment of humans and animals by buying only genuine flowers of sulphur.
Beware: powdered sulphur has been sold as flowers of sulphur and this practice continues illegally - see Royal Society of Chemistry website who recently posted a legal note about this deception.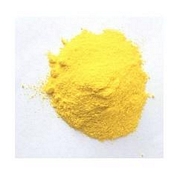 Powdered Sulphur
Ground sulphur (max. 8% sieve residue on 325 mesh). This product complies with the requirements of the British Pharmacopoeia 1998 and the European Pharmacopoeia 1996 for Precipitated Sulphur/Sulphur for External Use.
Used in pharmaceutical, agricultural and chemical process industries.
Other Products

Everitt Ltd also supplies other chemicals (selenium sulphide, red iron oxide, black iron oxide, selenium, graphite powder, zinc oxide, etc to global markets. Contact us with details of your requirements to find out exactly how we can help you.)

A full certificate of analysis is available on request to verify that all batches comply with BP and EP strictures.
Company Registered in England - Co. No. 5586398